Entries
上記の広告は1ヶ月以上更新のないブログに表示されています。
新しい記事を書く事で広告が消せます。
コメント
コメントの投稿
トラックバック
トラックバック URL

http://anclipping.blog104.fc2.com/tb.php/584-20b0a3f1
© Jonathan Gröger / transmediale
© Jonathan Gröger / transmediale
 日本人アーティストによる『Face Visualizer』というサウンドパフォーマンスです。ベルリンで行われた
Transmediale festival
で披露された時の様子ですね。  写真右側が
Daito Manabe(真鍋大度)
さん、左側が
Ei Wada(和田永)
さんです。
 このパフォーマンス、顔の筋肉をヒクヒクさせると、その動きとシンクロして音楽機器から音が飛び出ます。 体は全然動いていません、しかしよく見ると一生懸命顔を痙攣させています。絶えず顔をヒクヒク、音はキュインキュイィイィィイxxン!!!ザン ザン ズァン!、会場はアハハダハハ。
 日常生活にて、私たちは顔から色々なシグナルを出していますよね。それはコミュニケーションに無くてはならないシグナルです。親しい人であれば、言葉なぞ無くとも顔から出されるシグナルだけで何を言いたいのかわかったりするものです。 また、場面にそぐわないシグナルを出すと、周囲に不快感を与えてしまうこともあります。 えぇまぁ、シグナルとは『顔の表情』のことですが。
 私は何種類のシグナルを顔から出せるのだろう・・? こんな複雑な音色だせるかな?いやもっと微妙なコトできるでしょ?・・なんて考えてみました。笑  さて、パフォーマンス当日の様子やその他"LEDの歯"のことなど、
真鍋さんのブログ
もチェックするといいですよ。面白い作家さんです。
以下
today and tomorrow
よりクリッピング↓↓
---
Face Visualizer by Daito Manabe @ Transmediale
Last Friday I had the chance to see
Daito Manabe
perform with his Face Visualizer live during the
Transmediale
festival in Berlin. The Face Visualizer is a tool which lets people's faces move artificially in sync with music through electroshocks produced with the Max/MSP programming platform. I'm pretty sure you've seen the videos of his first tests like these ones
here
.
He performed together with
Ei Wada
, who definitely was quite surprised by some of the electroshocks.
The day before the performance, Daito held a presentation of his work at the agency I work for. Not only was he kind enough to do so, he also brought me a present:
my own Pa++ern t-shirt
.
Pa++ern
is a project he did together with
Motoi Ishibashi
, it was basically an embroidery machine connected to twitter.
THANK YOU GUYS!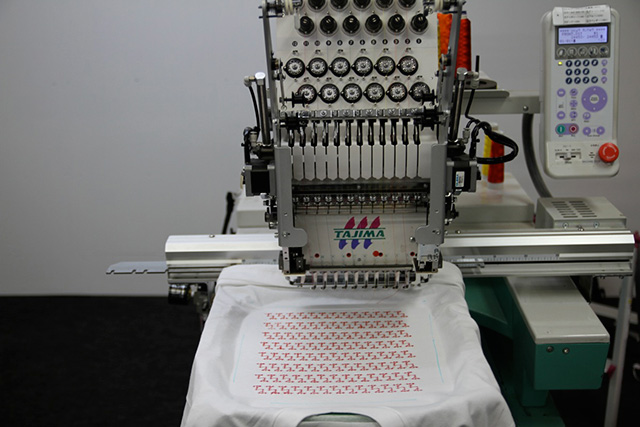 Face Visualizer by Daito Manabe @ Transmediale
- [found at
today and tomorrow
]
---
スポンサーサイト
コメント
コメントの投稿
トラックバック
トラックバック URL

http://anclipping.blog104.fc2.com/tb.php/584-20b0a3f1