Entries
上記の広告は1ヶ月以上更新のないブログに表示されています。
新しい記事を書く事で広告が消せます。
コメント
コメントの投稿
トラックバック
トラックバック URL

http://anclipping.blog104.fc2.com/tb.php/512-0ae44bb4
all images by john amend, cornell university
 『ド、ドラえも~~~ん!』って思った。 こちらのロボットハンドは
Cornell Computational Synthesis Laboratory
(CCSL) によって開発されました。 開発者たちがドラえもんの事を知っていたかどうかは謎ですが、色が色だけに連想してしまいますね(※ドラえもんの手は白です)。 
 とにかく、次々と発表される最新の人型ロボットは、手や足の動き・仕草が着実に人のそれに近づいてきており、いつの日かSF映画の様なロボットが実現されるのだろうと予感させられていましたが・・・ ここでまさかの"ドラちゃんの手"の発想キタコレ!! ですね!
 CCSLが言うには、"従来の5本指を持つ人の手型ロボットハンドには構造の複雑さや、掴めるモノの形状が限定されたり、繊細に扱わなければならないなどの様々な障害があった。"とのこと。それに対しドラちゃんの手は"摩擦力"と"吸引力"を使い色々な形状のモノを見事に掴みます。 材質や形状に捉われずギュッと握りしめる姿にポテンシャルの高さを感じ、今後の発展に期待せずにはいられませんね☆
 いやしかし、中身がコーヒーの出がらしって!笑
以下
designboom
よりクリッピング↓↓
---
robot gripper made from coffee grounds and balloon
researchers at the
cornell computation synthesis laboratory
(CCSL) have developed a robot 'hand'
made simply from coffee grounds and a balloon - and it grips just about anything.
project summary from the CCSL:
'gripping and holding of objects are key tasks for robotic manipulators. the development of
universal grippers able to pick up unfamiliar objects of widely varying shape and surface
properties remains, however, challenging. most current designs are based on the multifingered hand,
but this approach introduces hardware and software complexities. these include large numbers of
controllable joints, the need for force sensing if objects are to be handled securely without crushing them,
and the computational overhead to decide how much stress each finger should apply and where.
here we demonstrate a completely different approach to a universal gripper. individual fingers are
replaced by a single mass of granular material that, when pressed onto a target object, flows around it
and conforms to its shape. upon application of a vacuum the granular material contracts and hardens
quickly to pinch and hold the object without requiring sensory feedback. we find that volume changes
of less than 0.5% suffice to grip objects reliably and hold them with forces exceeding many times their weight.
we show that the operating principle is the ability of granular materials to transition between an unjammed,
deformable state and a jammed state with solid-like rigidity. we delineate three separate mechanisms,
friction, suction, and interlocking, that contribute to the gripping force. using a simple model we relate
each of them to the mechanical strength of the jammed state. this opens up new possibilities for the
design of simple, yet highly adaptive systems that excel at fast gripping of complex objects.'
the robot's hand has the capabilities of holding a pen and having control over it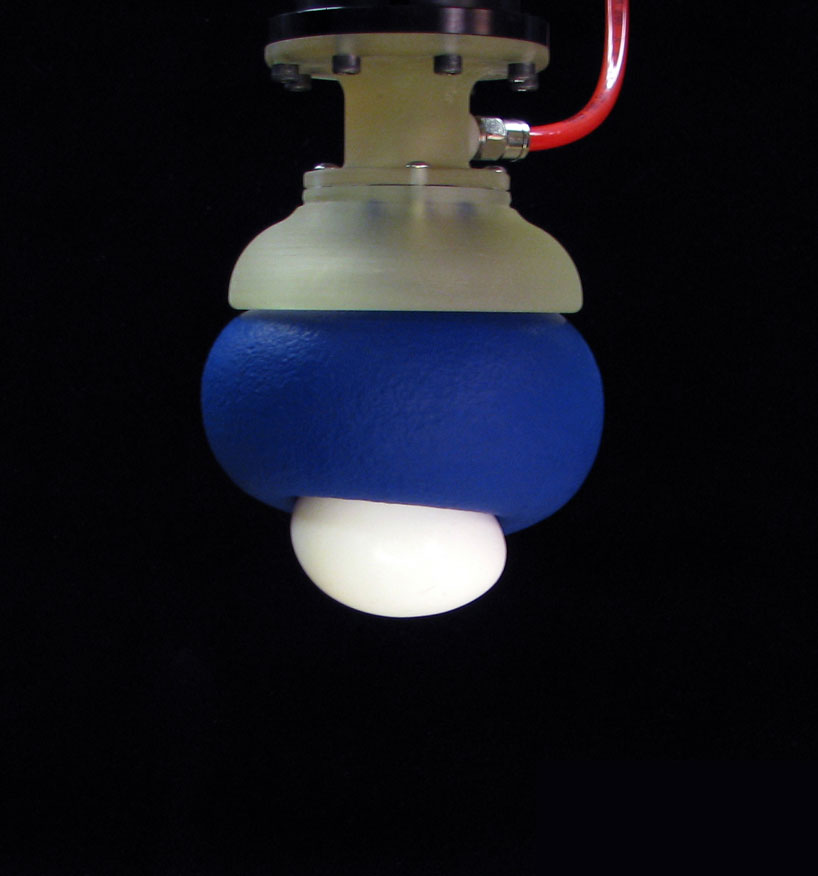 demonstrating suction
the gripper also has the capability of picking up small objects
the gripper is made from coffee grounds and a balloon
via fastcodesign
robot gripper made from coffee grounds and balloon
- [found at
designboom
]
---
スポンサーサイト
コメント
コメントの投稿
トラックバック
トラックバック URL

http://anclipping.blog104.fc2.com/tb.php/512-0ae44bb4