Entries
上記の広告は1ヶ月以上更新のないブログに表示されています。
新しい記事を書く事で広告が消せます。
コメント
コメントの投稿
トラックバック
トラックバック URL

http://anclipping.blog104.fc2.com/tb.php/415-ef2be21a
 ブラジル人作家、
エルネスト・ネト(Ernesto Neto)
さんのインスタレーションが凄く"柔らかい"のです!
 実際触ったことはありませんが、写真を観てください↑ ほら、この人たちみたいに私も飛び込んでモフモフしたくなりませんか?! と言うわけで、ひたすらに"柔らかい"を探究した作品です。ネトさんの作品は展示スペース全体をインスタレーションしておりまして、モフモフクッション以外に"光"までも柔らかいトーンに調整されています。観ているだけで眠くなってしまいそうですね。。zzz
 ところで"柔らかいモノ"で"すべすべのモノ"を観るとどうしてこんなに触りたくなるのでしょうか?結論から言えば、まごうことなき『本能の為せる技』かと思います。つまりネトさんは私たちの本能を操るインスタレーションを作り上げているのですね。凄く面白い作品ですし是非東京にも来てほしいッスねぇ~☆
以下
Albotas
よりクリッピング↓↓
---
Ernesto Neto Makes Art Fun
Brazilian artist
Ernesto Neto
is considered one of his country's leaders in contemporary art. His installations are huge and often comprised of light, stretchable materials like cotton and nylon.
He then takes these materials and makes room-sized abstract pieces that people can interact with. The photos below are of "anthropodino," an installation he had at New York's
Park Avenue Armory
last June. That big pink puffy thing? Yeah, definitely want to be in there.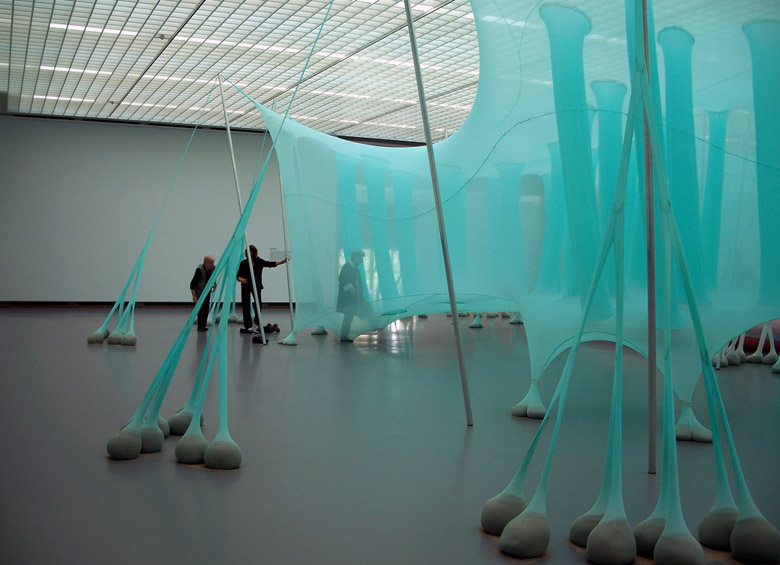 Ernesto Neto Makes Art Fun
- [found at
Albotas
]
---
スポンサーサイト
コメント
コメントの投稿
トラックバック
トラックバック URL

http://anclipping.blog104.fc2.com/tb.php/415-ef2be21a